Why Buy a Rolex FKM Rubber Band?
From days spent out in the hills hiking to enticing underwater adventures, we believe your watch should go wherever you do. Our watch straps are created by the chrono-experts over at Crafter Blue, who have spent many decades perfecting their precise and highly protective straps. Each one is expertly crafted from FKM rubber that's specially processed for additional strength and durability. Frequently used by the aerospace and nautical industries, FKM rubber can withstand temperatures of up to 200 degrees Celsius while also resisting damage caused by chemicals. This extraordinary material is a fitting partner for such a premium watch. In fact, Rolex is the only brand in the world that has the privilege of being fitted with an FKM rubber band. This reinforcement provides a premium level of protection from the elements, including harsh UV rays, extreme temperature, water damage and impact. Meanwhile, the smooth strap is much more comfortable to wear than its classic metal counterpart, especially when you're always on the move.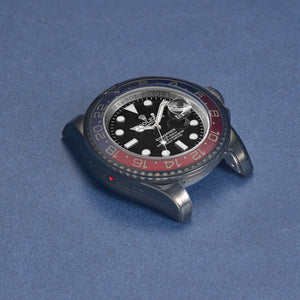 Chrono Suit Protection Case for Rolex
Built for the vigilant, our products protect your prized possession day and night, ensuring it stays in mint condition for many years to come. From revolutionary storage cases to wearable rubber straps, we provide high-tech Rolex accessories that will protect your watch at all costs.